When it comes to communications, you need a dependable, user-friendly, yet cost effective phone system. NuWave Technology has the knowledge, equipment, and resources to support your day to day voice traffic. Our team is staffed with ESI Master Technicians.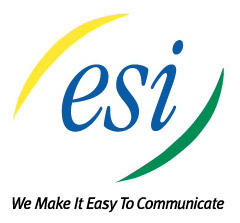 We partner with Estech Systems, Inc (ESI); together we can provide you with a custom built phone system to support your needs and allow for your wants. ESI Communications Servers are sophisticated, yet simple; each supports both IP and digital based systems.
With an ESI system, we are able to provide the following features:
Auto attendant or live voice
Intelligent Caller ID
Unified Messaging
Mirrored Memory Module
Shared office tenanting
ESI-exclusive virtual Answer
Automatic call distribution made easy
Intelligent call forwarding
Multi-Site networking options
Door Phone with Access Control
Unique message handling
Twinning – Ring calls at your desk phone & cell phone
Convenient IP or Digital Phone choices
Remote Maintenance
An ESI Communications Server works HARDER so your team can work SMARTER.
NuWave Technology primarily recommends an ESI phone system, however we can service other systems. In addition to phone systems, we can also provide:
Headsets – A headset allows for employees to keep their hands free and gain flexibility to move from place to place while taking a call.
Music On-Hold – With on-Hold music your customers will enjoy whatever type of music you choose. Or, better yet, listen to your pre-recorded advertisement and/or specials.
Surge Protection – is designed to protect your phone communications interface in any weather, thunder storms, snow, high winds, even if lightning would strike your building.
Whether you're looking for simple upgrades or a complete new voice solution, be sure to
contact NuWave Technology
.
Improve your cell phone reception with the superior brand of cell phone repeaters and boosters offered to you by NuWave Technology Inc. From your home, small or large business; let NuWave give you a cost effective solution engineered specifically to your needs and wants. NuWave is an authorized dealer and certified installer of the top 3 major cell repeater brands in the industry.

JDTeck
CellPhone-Mate and
Wilson Mobile